Hyundai Service Care Starts Here at Atlantic Hyundai
Now that you have recently bought or leased a new or use Hyundai, service and maintenance might be on your mind. When properly cared for, the average Hyundai will last for many years. Your owner's manual should come with a detailed service schedule telling you which parts should be replaced at which intervals. For all your service needs, Atlantic Hyundai is here to help. You can choose from our most popular service requests here or contact our dealership to inquire about other repairs we offer.
Our Hyundai service center is located in West Islip, NY and proudly swerving the greater Babylon, NY area.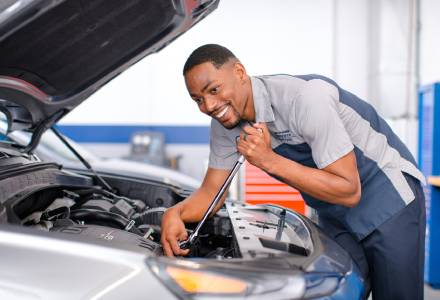 Transmission Clutch Replacement
All the Services You Need Under One Roof
Atlantic Hyundai is a great place for customers on Long Island to get expert care for their new or used Hyundai. All of our technicians enjoy specialized experience in the Hyundai brand and only use genuine Hyundai parts in their repairs, which will provide the best fit and are guaranteed to last. When giving your car or SUV the repairs it deserves, it helps to trust in the expertise of certified Hyundai technicians. Our mechanics will be able to give you feedback on your car's health, including telling you about any upcoming service needs that will need to be addressed now or at your next appointment.
Whether you purchased a new Hyundai, used car, or certified pre-owned model from our store, you can give it the care it deserves right here in West Islip, NY. Our Hyundai service center is fully-stocked with state-of-the-art equipment needed to diagnose and address any number of services you may need. Whether your Hyundai Sonata needs a routine oil change, or your used Hyundai Santa Fe needs more intricate transmission repair, our service center is the place to go. We also service a number of other makes and models, in case you purchased an off-brand used car from our store.
Available services include:
Oil/filter change
Alignment balance
Coolant flush/fluid top-off
Transmission repair
Air conditioning service
Air/fuel filter replacement
Multi-point inspection
Brake inspection/repair
Battery testing/replacement
Tire rotation/changeover
Enjoy Complimentary Maintenance from Hyundai
Did you know that every new Hyundai comes with complimentary maintenance? If you recently purchased a new car, it comes backed by three years or 36,000 miles (whichever comes first) of free maintenance, including oil changes, tire rotations, and multipoint inspections. This service plan allows you to get the basic care your Hyundai deserves for free to help prevent more costly repairs over the long-term. This plan is offered exclusively for new Hyundai vehicles and lasts longer than many other complimentary maintenance services which may be offered with other brands.
The Importance of Routine Maintenance
There are many benefits to driving a well-maintained car, but among the most important reasons are safety and cost. When our technicians address critical service needs like tire rotations and brake inspections, they prevent potentially hazardous safety issues, like hydroplaning, which can occur from ignoring important repairs for your vehicle. Keeping your Hyundai in great shape now, through routine oil changes, tire rotations, and fluid top-offs, will prevent the need for more costly repairs down the road, which can occur from ignoring basic maintenance needs.
Shop and Save on the Services You Need
Before you visit Atlantic Hyundai, we encourage you to check out our latest service center coupons. Each month, we have great deals available on all types of repairs, from A/C system maintenance to brake inspections and state inspection. Be sure to claim a special offer today as many of these service coupons expire on a monthly basis.
Schedule an Appointment Today
We encourage you to click around and learn more about the services we offer here at Atlantic Hyundai. When your car, truck, or SUV comes due for service, don't wait. Schedule an appointment online or by calling our service center staff here in West Islip, NY. Atlantic Hyundai is proudly serving Bay Shore, NY and the greater Long Island area. We hope to see you soon!