New Hyundai Tucson
Frequently Asked Questions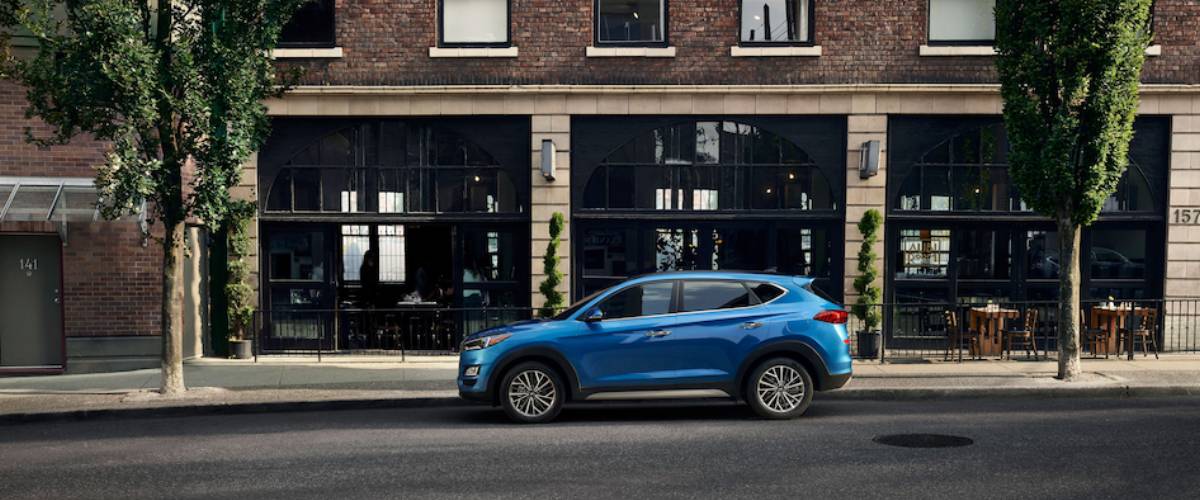 Discover More About the New Hyundai Tucson in West Islip
Are you thinking about the new Hyundai Tucson as your next SUV? At Atlantic Hyundai, we know that the research process is a crucial part of buying a new vehicle. To help you figure out how the Tucson might work with your driving needs, we're answering some of the common questions that drivers have.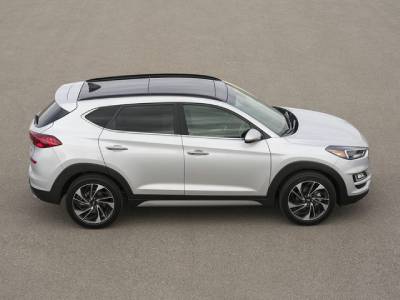 Is the Hyundai Tucson good for off roads?
The new Tucson is specifically designed for city or highway driving around Babylon. If you'll need to take it over bumpy ground, it's a good idea to choose the optional all-wheel drive. This will give you more traction, particularly when you hit mud or snow. With a ground clearance of 6.4 inches, the Tucson gives you enough room to tackle mild off-roading safely.
How many miles does the Hyundai Tucson last?
Every model of the new Tucson comes with a 60,000-mile new vehicle limited warranty. When it comes to the drivetrain, however, you'll get a warranty that lasts for up to 100,000 miles or ten years. Assuming that you follow the recommended maintenance schedule and treat your Tucson well, it's not uncommon for this SUV to have a longer lifetime.
Can the Hyundai Tucson tow a boat?
The Tucson can tow a boat, depending on the size, weight, and model. The Tucson SE and Value both have towing capacities of 1,500 pounds. The SEL, Sport, Limited, and Ultimate models can tow up to 2,000 pounds. Assuming that you're using a relatively lightweight trailer, you should be able to use the Tucson to tow smaller boats. Hyundai recommends that you don't do any towing with the Tucson until you've driven at least 1,200 miles; this enables the engine to break in.
Can the Hyundai Tucson be flat towed?
No. Hyundai recommends that if you need to tow the Tucson behind an RV, you should use a dolly or a wheel lift.
Does the Hyundai Tucson have Apple CarPlay?
Yes. All of the models of the Tucson, even the base-level trim, come with Apple CarPlay as a standard feature. To use it, you can connect your phone via Bluetooth or using a USB cable. This enables you to control your favorite apps using the touchscreen in the Tucson's dashboard. That way, you never need to hold your phone as you drive for safety and fewer distractions.
Apply for Financing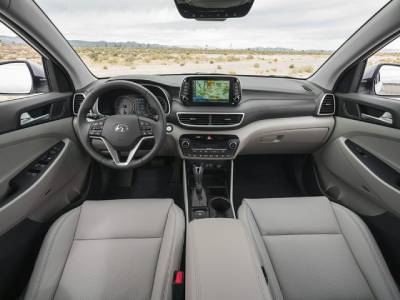 How much does the Hyundai Tucson weigh?
Each of the Tucson models comes in a different weight. What's more, the weight varies based on whether you choose front-wheel drive or all-wheel drive. The base model, which is the lightest option, weighs 3,309 pounds in FWD and 3,455 pounds in AWD. The most massive model is the Ultimate, which weights 3,593 in FWD and 3,732 in AWD.
How many seats does the Hyundai Tucson have?
The 2020 Tucson has seats for up to five people. Keep in mind that the middle seat in the second row is narrow, so it's most comfortable for a child or a very small adult. All models offer 102.2 cubic feet of space for passengers. In the front, there are 41.5 inches of legroom; in the back, your passengers can enjoy 38.2 inches of space for their legs. If you're tall, you'll be happy to find out that the Tucson offers 39.6 inches of headroom in the front and 39.2 inches in the back.
Does the Hyundai Tucson have adaptive cruise control?
Only on the top trim level, the Tucson Ultimate, is there adaptive cruise control on the Hyundai Tuscon. Hyundai calls it its Smart Cruise Control; it also works in stop-and-go traffic for convenient driving in traffic in Bay Shore.
Does the Hyundai Tucson have Android Auto?
Yes. All models come standard with Android Auto. To use it, your phone must be running 5.0 Lollipop or a more recent Android operating system.
Learn More About the Hyundai Tuscon at Atlantic Hyundai Near Brentwood NY
Do you have additional questions about the new Hyundai Tucson? Come in to chat with our dealership team; we're passionate about matching you with the perfect SUV. When you stop by today we can tell you more about our finance options. If you have any pressing questions feel free to contact us today and we will be sure to answer them right away.
View Hyundai Tucson Inventory