WEST ISLIP, NY – (June 7, 2017) – PRONTO of Long Island's 48th Annual "People Helping People" Gala was held on June 7th at the Watermill in Smithtown, NY. This year's event celebrated Howard Somberg-Rothco, who received the Community Engagement Award, Joe Dugan, this year's recipient of the Nilda Alvarez Award, and Nina Fenton, who was chosen as this year's Outstanding Volunteer.
Pronto of Long Island is a Community Outreach Center serving the most vulnerable children and families living in Brentwood, Bay Shore, Central Islip and the neighboring communities. Their facilities include a Food Pantry, Thrift Center and Warehouse with gently used household and furniture items. They also offer programs and services to help families improve their quality of life.
Atlantic Hyundai donated a 3-year lease for a 2017 Hyundai Sonata at the event. All proceeds from the event will go towards helping
vulnerable
families and children in the
Brentwood, Bay Shore, and Central Islip community.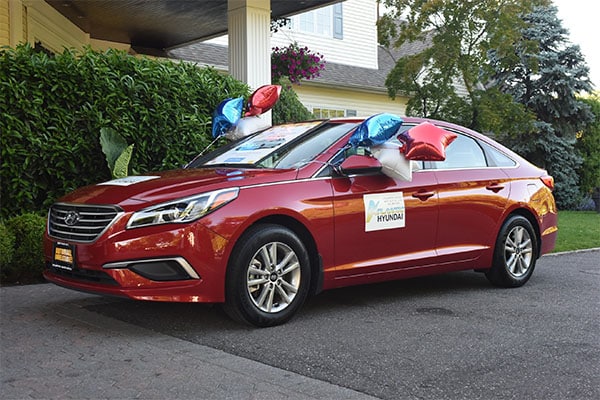 About the Atlantic Auto Mall
Atlantic Hyundai and Toyota have been serving Long Island for well over 50 years. Whether it's a new or preowned vehicle, service, or parts; Atlantic has you covered. With over 1,200 vehicles on the ground at all times, it is no wonder why both the Hyundai and Toyota point are perennial volume leaders in both New York and the country. For more information, visit
atlantictoyotany.com or atlantichyundai.com or call 631-587-0700.
About PRONTO of Long Island
Pronto of Long Island is a Community Outreach Center serving our most vulnerable children and families living in Brentwood, Bay Shore, Central Islip and our neighboring communities. We have a Food Pantry, Thrift Center and Warehouse with gently used household and furniture items. We also offer programs and services to help our families improve the quality of their lives. Our support is only temporary as our main focus is to help our neediest families rise beyond their challenges to lead fulfilling lives. For more information on PRONTO of Long Island visit
prontolongisland.org