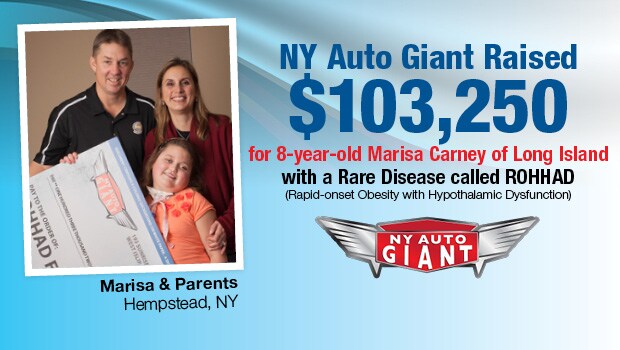 For those of you who have gotten to know Marisa Carney over the years like we have in the NY Auto Giant family, you'll know she is a very strong, and brave girl. Being diagnosed with a very rare disease at age 8 is no easy task, and here at Atlantic Hyundai, we wanted to do our part to help Marisa attend a study that we hope will make her life better, and bring more awareness to the disease.
It is why along with all the other NY Auto Giant dealerships in Long Island, we helped raise $103,250 for the Carney family to attend a study at Lurie's Children's Hospital in Chicago to find out more about the rare disease ROHHAD.
ROHHAD stands for rapid-onset obesity with hypothalamic dysregulation, hypoventilation, and autonomic dysregulation, and there are only 75 cases in the world. It results in rapid weight gain, and attacks the nervous system, making it hard to for those who have it to breathe on their own without a respirator. There is no known cause, treatment, or cure for ROHHAD.
During November 2014, each dealership, including ours, donated $25 for every car we sold, and collectively, NY Auto Giant sold over 5,000 cars, enough to raise the money required for Marisa to participate in study in Chicago.
You can learn more about Marisa's story by reading a feature in the Long Island Press, and to find out how you can help combat and raise awareness for ROHHAD, visit www.ROHHADFight.org for more information.