We are proud to announce that Atlantic Hyundai has won a 2015 DealerRater Consumer Satisfaction Award. DealerRater is website where consumers to read and write reviews about car dealerships. This allows them to learn which stores are the best and to share their experiences with other consumers. The Consumer Satisfaction Award is given to dealerships that have provided excellent customer service according to their consumer reviews, and are given to the top 10 percent of dealers out of the nearly 41,000 dealers featured on the site.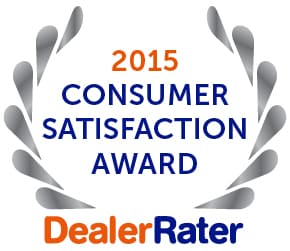 We've received high ratings on DealerRater, which has placed us in the top tier of dealerships around the country. These high ratings are what earned our dealership this award. Now when consumers check out our DealerRater page, they will see this award listed on our page and will instantly be able to tell that we provide outstanding customer service and that our service is some of the best in the country.
Excellent customer service has been a priority of ours for years, and we are thrilled that our customers have appreciated and given us recognition for that. Our staff is filled with knowledgeable, friendly and experienced people, and we do everything we can to provide each customer with whatever they may need to have a great car-buying experience. From our sales team to our service team to our finance team, we are dedicated to giving each and every customer the best service experience possible to make sure everyone leaves our dealership with a smile.
We would like to thank you, our customers, for rating our dealership and sharing the positive experiences you've had with our wonderful staff. It means a lot to us that you have enjoyed your time with us and that you appreciate our work enough to share your experiences with other consumers. We will continue to strive for great service, and will use this award as a motivator to continue to improve our service. Our customer satisfaction will always be our number one priority.
If you have any questions about this award or you'd like to experience some of this great service for yourself, you are more than welcome to stop by our dealership here in West Islip, NY. We would be happy to answer any questions you might have and provide anything you might need to have the best car shopping experience possible. We look forward to seeing you soon!